Filter by Subcategory
Other MaineGeneral Classes and Seminars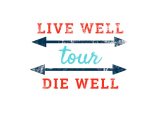 Live Well Die Well: Choosing Your End of Life Path
with Kimberly Paul, MaineGeneral Prevention & Healthy Living

Jun 27, 2019 at 5:30 pm

, runs for 1 week
Join national end-of-life speaker Kimberly C. Paul as she helps open the conversation on death and dying with a focus on inspiring each one of us to make decisions about our own end of life.
Kimberly will help us with tools to design our own destiny. Learn more about Kimberly and watch her TED video at www.deathbydesign.com.
This event is free, but you must sign up in advance. This event is sponsored by MaineGeneral Prevention & Healthy Living and MaineGeneral Hospice, celebrating its 30th year of providing care and comfort in our community.
Evening Schedule:
5:30 pm Refreshments
6:00 pm Keynote
7:00 pm Panel Discussion
7:30 pm Conclusion
A very limited number of Kimberly's books will be available the evening of the event for purchase/signing. You can secure your copy in advance by going to:
http://www.deathbydesign.com/buy-bridging-the-gap-by-kimberly-c-paul/
The Aging Foot — Problems, Prevention and Proactive Topics
with Gary Degen, DPM, CMPE, Other MaineGeneral Classes & Seminars

May 23, 2019 at 6 pm
"If the shoe fits..."
MaineGeneral Orthopaedics invites you to learn more about non-surgical and surgical approaches to common foot problems, high-risk foot in patients over 55, and diabetes and amputation risk in the elderly.
Join Gary Degen, DPM, CMPE board-certified podiatric surgeon at MaineGeneral, for a free information session.
To learn more, call 621-7532.